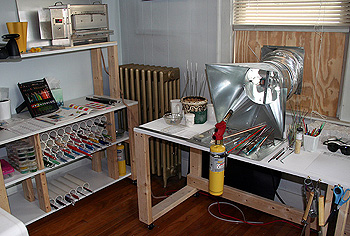 Drops of Glass studio, Worcester, MA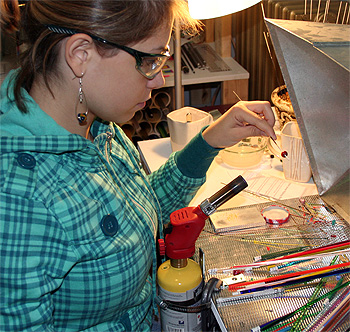 Me making a glass bead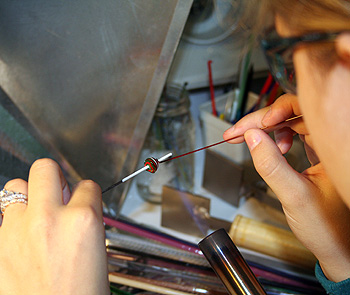 Applying details to a bead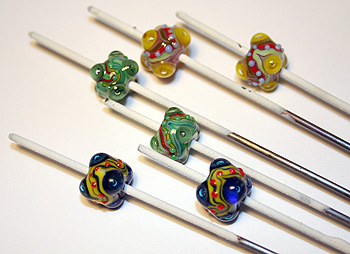 Finish glass beads still on the mandrels after just being annealed in the kiln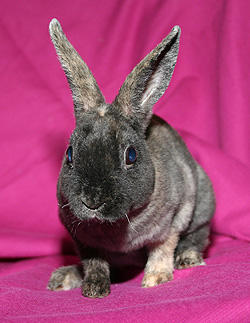 My bunny Piper
About Drops of Glass
The handmade, lampwork bead studio Drops of Glass began in 2008 when I discovered glass bead making and became passionate about this unique, fine art.
I am a full-time graphic designer by day and a torch bug in my free time. When I am not at the torch, I love spending time with my wonderful husband Jesse and our bunny Piper or doing pretty much anything creative.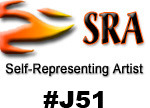 The Making of a Drop of Glass
The glass beads that I create start with a well-planned design and color scheme. When I've been inspired and have fully thought through the elements I'll need to make the bead, it's time to turn on the torch.
I then heat rods of colored glass in the torch flame. When the end of the glass rod is molten, I wind my glass colors onto a slip (clay) covered stainless steel rod called a mandrel. The mandrel is what makes the hole in the bead.
When the final touches to the bead are complete, the mandrel with the bead on the end is then placed into a digitally controlled kiln over night to ensure the highest quality and durability.
All of my beads' holes are then cleaned to remove excess bead release and are ready to be used!
Buying Drops of Glass

Shipping Policy
Ships within 2-3 days after receipt of payment
Will ship worldwide

I will package your beads the best I can to ensure safe arrival however, I cannot be held responsible for any loss or damage that may occur in shipping.
Payment Policy
I accept Paypal Only
You may pay with a credit card through Paypal
Payment must be made within 5 days after winning the auction
Refund Policy
If, for any reason, you are not completely satisfied with your purchase, you may return the item within 7 days of receipt for a full refund of the price of the item. Shipping not included. Return shipping costs at buyer's expense.
Sales Tax
For buyers who live in Massachusetts a 6.25% sales tax will be added to the price of this item.